With cooler temperatures now upon us, there's no better time than the present to go out and enjoy some of the amazing events we have going on in Waco. Wherever you choose to explore, make sure to tag us @Wacoan and use #WacoWeekend for a chance to be featured. 
Through the Weekend
Epiphanies
Wild Imaginings presents a weekend of theatrical performances, with the comedic "The Handless King" by Harley Elias as the main feature through the weekend at UBC Waco, 1701 Dutton Ave. Join for additional shows and stage readings Thursday through Sunday at Cultivate 7Twelve. Festival tickets are available or buy individual show tickets here.
Sancho Rancho Pumpkin Patch 
Sancho Rancho is throwing its third annual pumpkin patch each weekend from October 7–29th from 9 a.m.–6 p.m. This fun local event will include food trucks, games, petting zoos, hayrides and more. Car admission is $20 per car. Click here for more information.
Western Belle Pumpkin Festival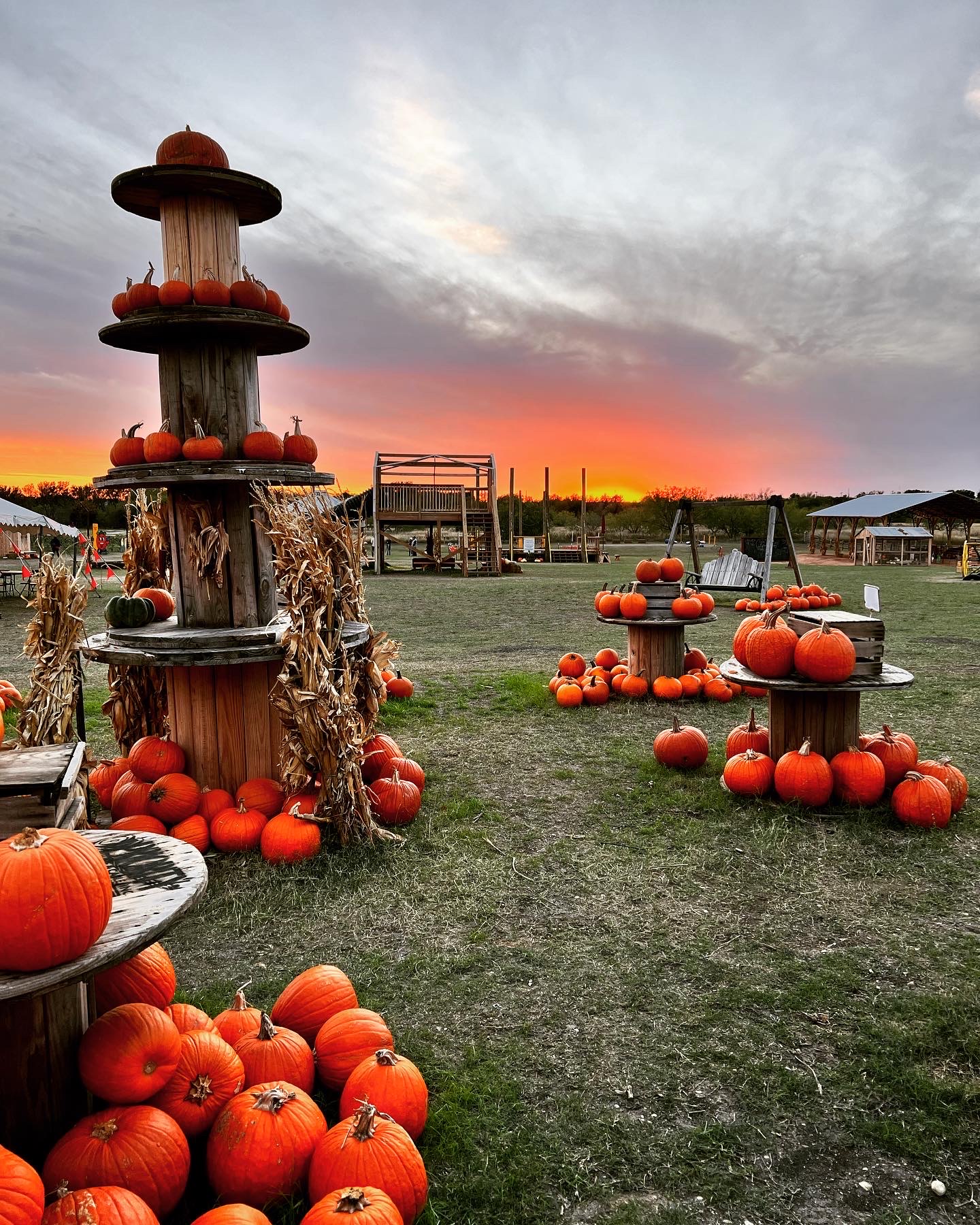 Western Belle Farm, 7929 Heritage Pkwy, West, TX, is hosting its annual Pumpkin Festival. From 10 a.m.—6 p.m., come celebrate autumn and enjoy free face painting, wagon rides, mini ziplining, apple cannons, pumpkin cannons and much more. Tickets start at $16, and children aged 2 and under are free. 
Heart O' Texas Fair & Rodeo
The HOT Fair & Rodeo is back for ten days of family fun. Catch the cowboys and cowgirls at the rodeo, enjoy live music and indulge in carnival treats from October 5-15. Get your tickets here.
Halloween Weekends at Camp Fimfo 
Camp Fimfo, 1000 Chickadee Lane, is hosting its annual Halloween Weekends for the Waco public to enjoy. This all-day event will have everything, such as fun scares, s'mores, haunted trails, costumes, magic pumpkin patches, decorating contests, bicycle parades and more. For more information visit their website. 
XOXO: An Exhibit About Love & Forgiveness
The Mayborn Museum has brought a new type of exhibit to Central Texas. XOXO: An Exhibit About Love & Forgiveness is a fun, interactive exhibit that teaches children and adults how to understand, appreciate and express emotions. The exhibit will run from September 17—January 7. Tickets start at $14. Click here for more information. 
Narrative as Reality: Constructing an Identity Exhibit
Attend this blockbuster art exhibit featuring 19 different artists and pieces from Kelvin and Jessica Beachum's personal art collection. This exhibit is free and open to the public. Current museum hours are Tuesday through Friday from 10 a.m. to 5 p.m. For more information, read our blog!
Hermès in the Heart of Texas: The Art of Kermit Oliver
Art Center Waco, 701 S 8th St, is presenting an exhibition of wearable art in celebration of Kermit Oliver's 80th birthday. Curated by Andrea La Valleur-Purvis, come view the intricate designs of Kermit Oliver, a Waco post worker and humble artist, in his 30-year collaboration with the world-renowned French fashion house, Hermès. The exhibit will run from August 4th through October 14th. Gallery hours are Tuesday—Friday from 11 a.m.—5 p.m., Thursday from 11 a.m.—7 p.m., and Saturday from 10 a.m—2 p.m. 
Thursday, October 12
Baylor Libraries Author Series featuring Dr. Greg Garrett
Baylor University's 2023-2024 Meet the Author series is hosting writer and Baylor professor Dr. Greg Garrett on the first floor of Moody Memorial Library, 1312 S 3rd St, in their Flex Schumacher Commons at 12:15 p.m. Dr. Garrett will be discussing his recent novel, "Bastille Day", with a light reception and signing to follow. Click here for more information. 
Open Paint
Hammer & Stain, 214 South 11th Street, is hosting an open paint event from 2—6 p.m. All are welcome to walk in and grab a project from their 'open paint' selection to create a special masterpiece. 
Cameron Park Road Ride 
Join Bicycle World Waco, 112 Mary Ave #1, for their Thursday ride at 6 p.m. Start at Bicycle World for a conversational, no-drop 2-mile ride to Cameron Park, where pacing will transition to the personal preference of each rider. Tail light and helmets are required. Click here for more information. 
Thicc Thursday
Come on down and get ready to pump up your glutes at Thicc Thursday, hosted by TurnUP Waco, 2422 Columbus Avenue, from 6—7 p.m.
Steak Night
J.S. Barnett's Whiskey House, 420 Franklin Ave, is hosting a steak night. From 6—9 p.m., come enjoy a beef filet, salad and two sides for $20, along with half-off bottles of wine. 
HLN Fiesta
¡Viva la Fiesta Waco! Head over to the Baylor Club at McLane Stadium, 1001 S M.L.K Jr. Blvd, to celebrate an evening of Hispanic Heritage with the Hispanic Leaders' Network. From 6—8 p.m., immerse yourself in Hispanic culture by dancing to the beats of live Tejano music, view local art, taste hor d' oeuvres and much more. 
Baylor Soccer: Baylor vs Cincinnati 
Baylor's soccer team is facing off against the Brigham Young University Cougars at the Betty Lou Mays Soccer Field, 1700 South University Parks Drive, at 7 p.m. Click here to purchase tickets. 
Geeks Who Drink
Get your facts right because it's Trivia Night at Truelove's Bar, located at 414 Franklin Ave. This evening consists of 60 questions over a two-hour period starting at 7 p.m. There are plenty of chances to win free drinks and prizes throughout the evening!
Songwriter night with Jonna Mae, Texas Music Cafe, 7 p.m. 
Darts Tournament 
Clicks' Billiards, 1200 Richland Dr., is hosting its weekly darts tournament starting at 7 p.m.
Stars Over Texas Jamboree: Golden Oldies Edition
Lee Lockwood Library and Museum, 2801 W Waco Drive, is hosting its monthly, family-style musical variety show. From 7—9:00 p.m., come watch special guests Eric Huggins, Kenneth Elliott, Stacey Stark, Dodi Trevinio, J.R. Sanchez, Andy Thomas and many more as they take over the Lockwood for a night of celebration. Tickets can be purchased here.
Boot Scootin' Dance Club
Spend your night line dancing and listening to live music from Larry Burgin and Texas Tradition for only $5 at the Boot Scootin' Dance Club! This event is at Sul Ross Senior Center, 1414 Jefferson Avenue, from 7—9:15 p.m.
Trivia Night
It's Thursday which means it's Trivia Night at Brotherwell Brewing, located at 400 E Bridge St. Trivia is from 7—9:30 p.m. and each week covers different trivia topics. Be sure to bring a team that has a wide variety of knowledge!
Teacher Happy Hour 
Art Center Waco, 701 S 8th St, invites you to join in on their Teacher Happy Hour. From 5:30—7 p.m., unwind and enjoy activities inspired by their Art of Kermit Oliver Exhibit and learn more about their future teacher initiatives. Entry is free, but sign-up is required. Click here to sign up now. 
John Mark McMillan, Common Grounds, 1123 S 8th St, 8 p.m. Click here to purchase tickets. 
Friday, October 13
End of Harvest Celebration
Head over to Valley Mills Vineyards, 1686 Farm to Market Rd 1637, Valley Mills, TX, for their End of Harvest Celebration. From 12—8 p.m., enjoy fall decor, pumpkin pie, carving and fall refreshments. They will also have two bookable wine tours available, one at 5:30 p.m., and the other at 6:30 p.m. The event is free, but tickets will be required for the wine tour. Click here to purchase tickets. 
Golf Camp Fridays
Bring your child to learn how to golf or freshen up their skills at Golf Camp Fridays, held by the Heart of Texas Golf Academy, 5608 Flat Rock Rd. (located inside Lake Waco Golf Club). From 1:30—3:30 p.m.,  students will receive instruction from Class A PGA golf professional, Jon Antunes in areas such as the full swing, short game rules, etiquette and much more. This camp is for middle school students. Click here for more information. 
For Keeps Jazz Night 
For Keeps Coffee & Bakery, 3619 Bosque Blvd, is hosting a live Jazz Night! From 7—11 p.m., come in and enjoy a live four-piece jazz band and a craft menu. Tickets start at $9, and the event is BYOB. Click here to purchase tickets now. 
Fabled Spooky Trivia Night
Calling all goblins and ghouls! Venture over to Fabled Bookshop & Cafe, 215 S 4th St, for some Spooky Trivia. From 7—8 p.m., grab a team of up to 4 and enjoy some deliciously brewed pints and savory snacks. To register your team, email communications@fabledcookshop.com. 
Junior Paranormal Investigator Open House
Grab your magnifying glasses and best sleuthing skills, because you'll need them to prepare for this one-of-a-kind event. The Dr Pepper Museum, 3000 S 5th St, is hosting a junior paranormal investigator open house. From 6:30—8:00 p.m., learn from real paranormal investigators about their equipment and process. No admission is required, though Halloween costumes are encouraged. 
4th Annual Skellington Curiosities Halloween Ball
Skellington Curiosities is back and better than ever with their 4th annual Halloween ball. The ball is located at 219 N 8th St. From 8 p.m. to 12 a.m., the ball will have a costume contest, live music, food, sideshow stages, beer, prizes and much more. Click here for more information. 
Markus Miller, The Blue Dog Wine and Martini Bar, 2004 North Valley Mills Drive, 8—11 p.m.  
Le Cure Tribute
The Backyard Bar Stage and Grill, 511 South 8th Street, is hosting a Le Cure tribute from 8:30—10:30 p.m. Click here to purchase tickets. 
Saturday, October 14
IRONKIDS Waco Fun Run
IRONKIDS is here in Waco. The IRONKIDS Fun Run offers young kids to compete and promote healthy living in a fun, family-centered event. Kids aged 0—17 are encouraged to participate. The race starts at 9:00 a.m. in Indian Spring Park, 101 N University Parks Dr. Click here to register now. 
Waco Downtown Farmers Market
The Waco Downtown Farmers Market is open every Saturday from 9 a.m.—1 p.m. and is located at 500 Washington Ave. This market features locally grown and produced goods from farmers and artisans within 150 miles of Waco. There is always live music and a featured local organization each week. For more information regarding upcoming events and weekly vendors visit their website.
GreenLife Nursery 1st Annual Fall Festival 
Head over to GreenLife Nursery, 1312 North New Road, to celebrate their 1st Annual Fall Festival. From 10 a.m.—2 p.m., come enjoy family activities, vendors, food, contests, games, prizes and more. 
Heart of Texas Storytelling Guild
Head over to Oakwood Cemetery, 2124 South 5th Street, and join the Heart of Texas Storytelling Guild for their annual Oakwood Cemetery Walking Tales. From 10 a.m.—1 p.m., come bring historic stories and tales to life. 
WPSA Cookout Fundraiser
The Woodway Public Safety Association is hosting its annual Drive-Thru Cookout Fundraiser. From 11 a.m.—3 p.m., head over to Woodway Elementary School, 325 Estates Drive, to grab food catered by Dubl-R Old Fashioned Burgers. Click here for more information. 
Sic'Em Science Day
Come join in on SIC'EM Science Day, a day of fun and experimentation at the Mayborn Museum Complex, 1300 South University Parks Dr. From 11 a.m.—3 p.m., enjoy one-of-a-kind STEM activities provided by real-life Baylor University Scientists. Click here to purchase tickets. 
Oktoberfest at Pinewood Pub
Pinewood Pub, 2223 Austin Avenue, is hosting its 3rd annual Oktoberfest. From 12—10 p.m., come enjoy the Oktoberfest beers on tap, live jazz, yard games, hot dogs, donuts, vendors and more. 
Celebramos La Cultura Market
Head over to Cultura Mia Mexican Restaurant, 123 North 12th Street, to celebrate Hispanic Heritage Month at their Celebramos La Cultura Market. Head over to enjoy their first ever Pop Up Mercado! With great food, vendors and $3 margaritas. Head over to @culturamiawaco for more information.  
Dos Equis River Clean Up
Join Keep Waco Beautiful for their Dos Equis River Cleanup. From 10 a.m.—1 p.m., join in on their pre-ironman Race river cleanup, all while enjoying a cold beer and free food from Tru Jamaica. All volunteers must register.  
Bonnie & Clyde Murder Mystery 
Dress in your best 1930s gear to help solve a murder. Head over to East Terrace Historic House, located at 100 Mill Street, for this Bonnie & Clyde Murder Mystery. Each ticket will grant you admission to this event and a custom can from Southern Roots Brewery. All those in costume will gain automatic entry to a raffle for a free-play certificate to a Waco Escape Room. Click here to purchase tickets. 
Sunday, October 15
2023 IRONMAN 70.3 Waco 
Put yourself up to the ultimate test at the 2023 IRONMAN 70.3 Waco. This grueling course features a 1.2-mile swim that transitions into a 56-mile bike ride and ends with a 13.1-mile run that will conclude at the historic Waco Suspension Bridge. Come test your limits and prove why you're the best. 
Sunday Funday
Head over to J.S. Barnett's Whiskey House, 420 Franklin Avenue, for their Sunday Funday. From 10 a.m.—7 p.m., enjoy brunch, karaoke, cocktails, live music, outdoor games and much more. 
Woodway Farmers Market
The City of Woodway is hosting its monthly farmers market at the Carleen Bright Arboretum, 1 Pavilion Way, Woodway. From 10 a.m.—1 p.m.,  come purchase fresh produce, live music, and eat delicious food from any of the trucks in the area. 
Open Mic Night with Clinton Bon Slaughter, Lakeside Bar & Live Music, 6—11 p.m.